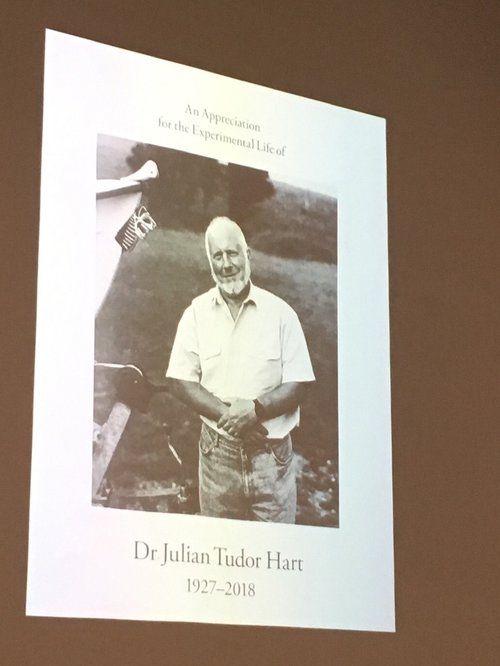 The event was highly informative and again had a big influence on my thinking. My previous knowledge of the inverse care law, of the availability of good healthcare being inversely related to the need of the population, was not only enriched but also added to, by the inspirational stories I heard from impassioned every day GP's who are providing invaluable primary care services to those who most need it. Funding and deprivation is a concept nobody is able to separate with ease and social changes partly secondary to industrial decline, the lack of affordable housing, the rising cost of living and welfare reform are just some of the reasons why socioeconomic deprivation is strongly linked with adverse health outcomes, such as mortality rates. Those brought up in Kensington, a deprived area just east of Liverpool city centre, face a life expectancy of around 15 years less than their Kensington counterparts in West London.
The key message from the conference was that there is action that those working in primary care can achieve. The life of Tudor Hart, a GP who dedicated his life serving a working class mining community in South Wales, demonstrated that the health of the community can be improved by engaging them, allowing them to co-design services, using patient as teachers and educators for the next generation and understanding the concept of holistic wellbeing as paramount for longevity.
Another key to this concept was continuity. One of the major drawbacks of working at scale is a perceived reduction in continuity. As a clinician I feel strongly about my continuing support to a community of individuals, but I understand to provide equitable access, continuity can not always be guaranteed. The patients I meet on a daily basis still yearn for the 'good old days' of continuity with the same GP that treated them as a child. I think when dealing with patients of deprived communities this continuity is pivotal, as it allows the clinician to understand them as a whole much more readily as they have built a ready made socioeconomic story for the patient that sits in front of them, so they can view their perception of illness through a different lens. The difficulty with sporadic, single encounter visits is that the patients story and journey gets lost and there may be trends to underplay or overplay the patient's symptoms which may lead to under or over investigation. I think in my practice I can certainly appreciate the value I have found when working in the more deprived practice in the group to develop a rapport and understanding of the patient's social circumstances, which of course if paramount in all consultations, but arguably even more important in this context.

"Effective healthcare has to be built around real continuing personal stories, not episodic fragments of standardized process." - Julian Tudor Hart, The Political Economy of Health Care, 2010
The concept of the Deep End GP, is a notion of the the Gp's who work in the most deprived practices in a particular region, and is a movement founded in Glasgow by pioneer GP's who recognised the common struggles and challenges that working in those areas brought and how by working collaboratively, workplace satisfaction improved, improvements via innovation could be achieved and support could be garnered by sharing each other's experiences. We learnt regarding the Deep End movement had inspired new movements to spring up in Ireland and in Yorkshire and how these movements reflected the similar goal serving a different population with different socioeconomic factors at play.
From a similar project in Manchester I learnt regarding Hope citadel, a community interest health care company that was started as a GP surgery by a medical student prior to qualification. The movement has now spread and they won multiple contracts across the city with a common message to the commissioners that reducing health inequality is part of their MO. One such innovation of working closely with a link worker embedded in the community and employed by the practice has actually seen the reversal of unemployment trends – an incredible feat of the magic of general practice. This was reflected again by the learning from Tower Hamlets of how using data at a large scale can contribute to improving the health of a deprived community, with the highest QOF attaining region in London being the most deprived, due to the ability to capture quality with big data.
Dr Mathew Fortnam